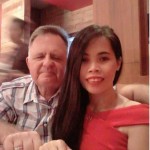 The Lord God said, "It is not good for a man to be alone. I will make a helper suitable for him."
"First and foremost, we would like to thank and praise God for His great love and mercy during our journey. We thank You for the gift of marriage. God always gives His best reward to those who are faithful in waiting and to those who are humble to depend on Him in choosing for a lifetime partner. Also, we would like to thank Christian Filipina for giving us the opportunity to meet. Thank you CF for being the tool which brought me and my wife together.
We started messaging each other on March 15, 2015. At first, she would reply to my long messages with only one sentence but I never gave up. In November of 2015, after eight months of messaging and chatting, I visited and met her in person. She is truly the woman/angel I have prayed for, a joyful personality and a Godly character. She has the spiritual qualities that I respect, trust and admire. After almost two years of getting to know each other's personalities, beliefs, strengths and weaknesses, we got married on the 14th of February 2017.
– Thom & Weng