Christian Filipina Reaches out to the World with God's Love
The dating site, ChristianFilipina.com is announcing its 2013 donations to community groups around the world to aid and encourage those less fortunate to improve their lives.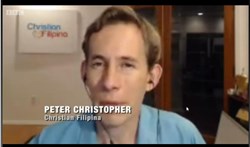 ---
Honolulu, Hawaii (PRWEB) August 16, 2013
Peter and Milyn Christopher, founders of the popular Christian Filipina dating site explain their unique mission: "As God's servants, we want to show love for the human race and not just singles looking for a spouse. Real love is beyond romance, it is an act of the will designed to give hope to all of us to achieve our potential.
Not only have they helped thousands and men and women to connect safely online, but they also continue their passion to reach out to all those in need who are working to improve their lives. This remarkable ministry has been making a difference in those who need help for over ten years. This year, AERO, an International Educational Networking for grassroots home school and community schools received $400.00 Another $500.00 went to Abundance International, to further advance their Orphanage Room Renovation Project in Nokolaev Ukraine.and even one man whose profile was for sale online without his permission.
A gift of $250.00 went to the Free School of Albany, New York, to support international educational internships showing his concern for young people in foreign countries.
Peter and Milyn, also care about people close to their home in the Aloha State. They donated $100.00 to the Better Business Bureau Foundation of Hawaii to support fraud prevention efforts towards Hawaii Senior Citizens.
Peter vows, "As long as I head up CF, I will do everything in my power to keep our site free of fraudulent individuals and methods on behalf of our members. When people join Christian Filipina, they will receive the care, service, respect and privacy they deserve. All users of internet services deserve a high level of confidentiality and privacy."
Along those lines, their donation of $500.00 to the Electronic Frontier Foundation expressed his commitment to support the privacy and security of internet users.
Finally, Christian Filipina made a generous donation of $500.00 to Smile Train, to provide free cleft surgery for millions of poor children in developing countries. This is an organization whose goal is to create one million smiles in the world.
Thanks to Peter and Milyn Christopher and the altruism of Christian Filipina, many organizations and people are smiling tonight.
MISSION STATEMENT
A true force for change and integrity in online dating, ChristianFilipina.com debuted its site in 2009. Members come from more than 30 countries and know that when they have found Christian Filipina, they have finally arrived at a site they can trust.
Your profile is hidden!
We've noticed that your profile is marked as hidden. Only the members who you have added to your saved profile list can see your profile.
Would you like to keep your profile hidden, or show it to all users?