Hawaii-Based Filipino Dating Site Owner Stands Out as Model of Integrity on BBC
Filipino focused web site owner featured as trusted executive on "Scotland Investigates" report "Tainted Love" investigating deceptive practices and profile-selling in the online dating industry.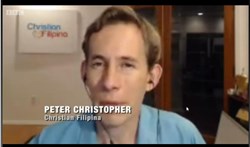 Christian Filipina dating site campaigns against bad practice in the dating industry.
---
Hilo, Hawaii (PRWEB) July 31, 2013
Peter Christopher, owner of ChristianFilipina.com Filipino dating site along with his wife Milyn Christopher, was selected as a trusted industry representative to explain the dating industry. In the investigation Tainted Love by Scotland Investigates, BBC reporter Fiona Walker documented the BBC's investigation into unethical business practices used in the four billion dollar online dating industry. She interviewed dating site users, former dating company employees, and even one man whose profile was for sale online without his permission.
Christian Filipina founder Peter Christopher was the only dating industry executive who appeared in the report. In the words of Fiona Walker, Christian Filipina "campaigns against bad practice in the industry." Mr. Christopher lent his insight on the state of the online dating industry, stating in the program that, "Inside the dating industry there's almost an attitude of invincibility. Executives tend to believe that they will not be suffering from anything more than a small fine if anything. In many cases, just ripping people off and breaking their hearts."
Christian Filipina is a trusted dating site where Christian Filipino women and men meet Christian singles from the Philippines and all over the world. Christian Filipina has had over 150,00 members since its inception in just four years ago in 2009. With over 10,000 visits per day and an active membership of over 20,000, Christian Filipina is a thriving singles destination.
Your profile is hidden!
We've noticed that your profile is marked as hidden. Only the members who you have added to your saved profile list can see your profile.
Would you like to keep your profile hidden, or show it to all users?