Christian Filipina Announces Limited-Time Saint Patrick's Day Special
Christian Filipina Announces Limited-Time Saint Patrick's Day Special
The award-winning international dating site will offer a special package for subscribers who join the ChristianFilipina.com community between now and St. Patrick's Day, Monday March 17th.

.

Honolulu, Hawaii March 12, 2014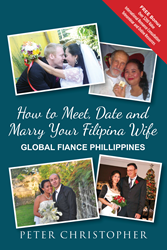 "Christian Filipina brings together all believers from every country with an interest in the Philippines."
Best-in-class international dating site Christian Filipina today announced a limited-time special in preparation for Saint Patrick's Day. The impending holiday is of particular significance to the company, and the offer is intended as a celebratory token of appreciation for new members.
Saint Patrick's Day is a commemoration of Saint Patrick and the arrival of Christianity in Ireland. The country also has strong ties to the Philippines, due to the two nations' strong common Catholic faith. In honor of its base of over 400 Irish members and the Ireland-Philippines connection, Christian Filipina will be offering a special package for new subscribers who enroll between now and March 17th.
Prospective members who call to join ChristianFilipina.com's existing community of over 250,000 men and women worldwide will receive a complimentary copy of "How to Meet, Date, and Marry Your Filipina Wife" with their upgrade to Silver or Platinum. Written by Christian Filipina founder and renowned international dating expert Peter Christopher, the book serves as a start-to-finish guide for men who are looking to meet and marry their Filipina soulmate.
"Christian Filipina brings together all believers from every country with an interest in the Philippines," said Ivy Panganiban, Romance Consultant for Christian Filipina. "Our community of friends and happy couples celebrates our many members from Ireland this month, and celebrates the good news of Jesus Christ as spread by Saint Patrick and thousands of others who have dedicated themselves to spreading love and joy in His name."
To take advantage of Christian Filipina's St. Patrick's Day promotion, members should call 1-800-578-1469 and mention Saint Patrick's Day.
About Christian Filipina
Christian Filipina is a premier online destination for Christian singles worldwide. The trusted website features numerous resources and testimonials, as well as a lively singles community. Of its member base of over 250,000 eligible men and women, thousands have already met and found lifelong love.
Peter Christopher, founder of Christian Filipina, has appeared on the BBC for his work fighting fraud in the dating industry. He lives near Hilo, Hawaii with his wife and family.
Your profile is hidden!
We've noticed that your profile is marked as hidden. Only the members who you have added to your saved profile list can see your profile.
Would you like to keep your profile hidden, or show it to all users?