Indiana Man Who Met His Bride at Christian Filipina Featured in National Philippines Television
Indiana Man Who Met His Bride at Christian Filipina Featured in National Philippines Television Segment
The award-winning international dating site recently took the spotlight in a segment on Channel 13, part of the Intercontinental Broadcasting Corporation.
Fort Wayne, Indiana - February 20, 2014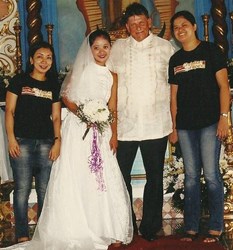 "I have never seen nor experienced such kindness and acceptance as I did when i arrived in Luzon, Philippines."
Best-in-class international dating site ChristianFilipina.com today announced its appearance in a 5-minute prime time television segment aired in the Philippines. Recently dubbed Best Mobile Dating Site and Best Niche Dating Site by two separate industry awards, Christian Filipina proudly welcomes this television feature as its first major media coverage so far in 2014.

Founded in 2009 by international dating expert Peter Christopher, Christian Filipina has quickly become an industry-leading online resource for singles worldwide looking to find companionship in an honest, conservative setting. Christopher – a pioneer of dating site integrity – has also established an organization solely dedicated to creating and upholding industry standards, as well as recognizing the trustworthy sites that adhere to them.

The recent television segment highlighted the mission and values of Christina Filipina, and was aired during prime time on Channel 13 – part of the Intercontinental Broadcasting Corporation (IBC). The IBC is currently one of three government-owned television networks in the Philippines, and is broadcasted across the country. In addition to profiling the company as a whole, the feature zeroed in on the heartwarming story of David and Rowena Carr. The Carrs met on ChristianFilipina.com last year and were married on June 23, 2013 in the Philippines. David, originally from Argos, Indiana, made the move overseas to be with his new bride; the couple now happily lives in Dapdap, Philippines. David and Rowena's union is one of many that have formed on the premise of wholesomeness and transparency through ChristianFilipina.com.

"We are honored to appear on IBC TV in the Philippines and thrilled with the happiness Dave and Rowena Carr have found," said Peter Christopher.
About Christian Filipina

Christian Filipina is a premier online destination for Christian singles worldwide. The trusted website features numerous resources and testimonials, as well as a lively singles community. Of its member base of over 200,000 eligible men and women, thousands have already met and found lifelong love. Peter Christopher, founder of Christian Filipina, has appeared on the BBC for his work fighting fraud in the dating industry. He lives near Hilo, Hawaii with his wife and family. For more information please visit http://www.ChristianFilipina.com.
Your profile is hidden!
We've noticed that your profile is marked as hidden. Only the members who you have added to your saved profile list can see your profile.
Would you like to keep your profile hidden, or show it to all users?