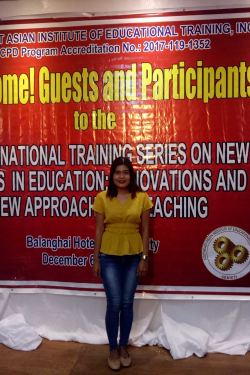 Rose
31 Years Old, Female
USER ID: 895072
Location: Bayugan city, Agusan del sur, Philippines
Contact Rose
USER ID: 895072
Location: Bayugan city, Agusan del sur, Philippines
Hello.. How are you out there? My name is Rose, 27 years of age.
Honestly, Idon\'t like to describe myself here. I just want others to discover who really I am as we get to know each other. But I can assure you that I am the kind of person whom you can trust and count on. A person who will stick to you no matter what it takes. I am a family-oriented person. I loved and valued my family like how I loved and valued my family. I\'m a nature lover. I l9ve to travel, watch the sunrise and sunset, outdoor activities, gardening and playing badminton..
My purpose why I am here is not for fun or to play games but to look for a serious relationship. All of us share the same wish and the same right... to seek happiness. I know nowadays it is not easy to find a right person specially in an online dating site like this. It is hard to build and gain trust to a certain person whom you do not know and see personally. But you can\'t just hope for a happy endings by just waiting and not making any move. If you don\'t go after what you want, you cannot have it. So you have to take a risk. I have onced loved the wrong person., cried the wrong person. But one thing i\'ve learned.. mistakes helped me tobe a better, matured and stronger person.
I am just a simple woman with a simple dream..and that is to look for a simple man that I want to be with for the rest of my life. A man who treats the woman he loved special. A man who is faithful, sincere, honest, kind, family oriented and not only good in words but put his words into action.
I believe that love, trust, time and respecpect are the strong foundation of a healthy relationship. I am hopeful and positive that I will be able to find my soulmate here. To all the members of this online dating site, God Bless on your journey for searching the right person..
Prefers to Meet Age:
30 to 55 (Strict age limits: no)
Education:
Bachelors degree
Weight:
110 lbs (49.9 Kg)
Religion:
Christian / Seventh day Adventist
Member Since: September 16, 2017
Last logged in: Oct 21, 2021