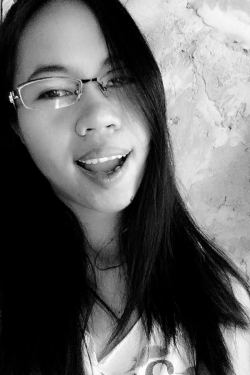 Shellrie
28 Years Old, Female
USER ID: 709777
Location: Tahusan, Southern Leyte, Philippines
Contact Shellrie
USER ID: 709777
Location: Tahusan, Southern Leyte, Philippines
07/27/17
I remember my past years in high school when I had suitors. They even sent me letters which I thought it was funny. I didn\\\\\\\'t take it seriously since I thought I was young then. I had five of them and one was my ultimate crush but i just ignored him. On my last year, I had another crush, he was kind and smart. But he had another crush also. Bad Luck!! I was hurt and tried to move on. In college, I didn\\\\\\\'t have one. All right I knew what you think.. I\\\\\\\'m just being honest.. That\\\\\\\'s all!! Someday God will provide mine.

This the first day of the month of August. Of all the reports that was assigned to me, the language assessment was the most difficult one. Haist!! I really dont understand it even it ive read it over and over again. I need more research on it.

Now I know, hahha
Next month will be our practicum in the field. God if this is what you want, so do I so please guide my way. Ill be dealing diversities of the learners.
God will make a way when there seems to be no way!! LOve this hill song my favorite one

Happy and Blessed Sunday to all.. God Bless..

How are you all? Ive been busy this past few months with my students.. at first I thought it wasnt easy but through the days that I spent with them oh.. i learned their stories and it was one of my motivations to continue through the journey.. it was finally ended and it was one of the best moments happened in my life. All Thanks to Almighty God.. God Bless us... Soon to graduate..

Hello everyone!! How you doin? Finally, I graduated, , this is not the last but the beggining of my journey in life. Thanks God.. Anyway, im still searching for my partner in life.. I hope to meet you soon..

How are you all? Its summer time.

How are you guys? Anyway I rarely open this account for some reason. Sorry. hehe...but thank you to those who viewed my profile and to the ones who sent me winks.. I also received two messages for this month.. Thank you!!

I wasn\\\\\\\'t updating here for a few months now after I graduated.. So, I will be writing here some of my ganap or events in life ba? Charot.. haha.. basta..So, After the graduation last April 2018 I planned to take a review and to enroll in a review center which it happened naman so I was blessed even though i was not able to enroll my preferred review center like CBRC because its really far from here and dont have enough budget ..but its fine.. its really not just about the RC nman for me to pass an exam... its about myself and most especially God.. Theres a reason for that nman. We know that.. So this is it our final exam.. it was on Sept. 30 Im just thankful to God for that day for I was like really calm on that day because I know God is with me eventhough the exam was really hard especially on my major. Oh. i was really praying for that day especially for the result..Now, im still waiting for the result.. Fighting!!! Maybe after the result I am planning to apply for a job na.. Good luck to me... Thats it for now... I\\\\\\\'ll update you soon!! hhehe

Yes. I made I successfully passed the board exam.. Im so blessed to be one of the future educators. Thank you so much Lord!!!

Well, , as of my journey in seeking for a man who would make me feel that i am deserving to be with him despite of my imperfections ahm thank you for your patience for looking and waiting on me.. We will be meeting in the future... Maybe youre just somewhere down the road.. haha. Waley.. Tbh I will be waiting for you whoever you are.God has a plan for us!! God bless!!😄😄😄

Merry Christmas and Happy New Year!!! 2018 has been challenging year and blessed year.. Im so thankful to our Almighty God for everything he had done in me.


Good Day!! Its summer time!!! 2019 will be a challenging year for me!! God Speed..

Hello !! Good Day..I have been in this site for almost 3 years and I havent found my forever. Charot2x am i in a hurry? Anyway.Let God lead my way!! 😍😍 I havent yet upgraded so if you wish to know me a bit you can read this whole description about myself.

Good Day!! How are you all? I miss this site. I rarely open thus site especially these past few months for I am busy doing lessons and other activities. Anyway, I havent yet found my the one. Hopefully, soon.. Despite that. I am now in a moment improving myself and my skills. Hoping to learn more about life and love God more.


Merry Christmas 2019..

Happy New Year 2020. This year is my 26th existence in this world. Thankful to our Lord God so much for his blessings and wisdom for me and my family. Welcome 2020!

As of finding a real guy, last year is not my lucky year. Maybe this 2020? Who knows? Only God knows. Never surrender. Patience is a virtue. Youll never know that he already chatted you but then a lot of thoughts are in his mind, maybe he is still settling down on his own life. God takes you to whoever destined for you. Be the the best though we\\\\\\\'re not perfect for youll obtain the best. Have a prosperous and blessed New Year everyone!! Be safe!! Thank you for spending few minutes to read this long description of myself.

Few months left, Hello Christmas and New Year!!

Its October 2020 already
It was a long month ever. Year 2020 shocked everyone around the world in this pandemic called Covid 19. Hoping and praying this will end soonest. 🙏🙏🙏 Keep safe everyone!

March 2021

Life has tested us. Weve been experiencing downhills but still here we are fighting and praying🙏🙏🙏

Hi guys. Update update update

Im still single and looking for a genuine partner to build a family. I may have imperfections but I can be the best for my family. Ive been in CF for 5 years. I realized that we have different clocks and still im here waiting and praying. ❤️❤️❤️

Please message me if youre interested. Thank you!
I want to meet a responsible man who wants to learning grow with me. I am not that into quick relationship as Im still learning to be prepared and fulfill my dreams in life. I love a humorous man as well as adventorous. I love adventures. He should be willing to meet me here in the Philippines once we developed a sense of relationship.

Prefers to Meet Age:
25 to 45 (Strict age limits: no)
Education:
Bachelors degree
Ethnicity:
Filipina / Filipino
Preferred Bible Version:
American Standard
Religion:
Christian / Catholic
Member Since: September 16, 2016
Last logged in: Sep 24, 2022