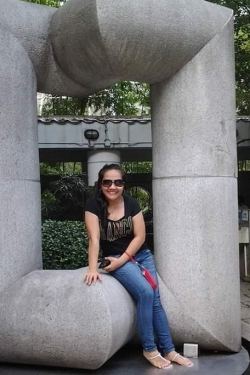 Clemelyn
36 Years Old, Female
USER ID: 7025
Location: davao city, davao, Philippines
Contact Clemelyn
USER ID: 7025
Location: davao city, davao, Philippines
I'm simple, loving, family oriented, God fearing, I serve God almost 9 years and God is so Good to me."getting you think you have no chance of getting what you want, you probably won't get it, but if you trust God to do what's best, and wait on his time, sooner or later, you will get it or something better"
  Colossians 3:2
       2 Set your minds on things above,   not on earthly things..
 A pleasant Day...
   I 'am CLEMELYN, 36 years old..I finish a 4 years course, Business Administration major in management..
    I serve GOD almost a half of my life..My parent's teaches us to serve GOD and they always say that without GOD we are nothing..My family are so in love in GOD...That's why I'm very blessed to have a parent's like them...I'm not asking for more but i pray to GOD that he will gave us good health and strength, so that we have time to preach the word of GOD....
    GOD is good all the time.. In spite of the challenges that we may face, he is a GOD that never leave us...Sometimes I ask GOD why things happen, but he said in his word that...
1 Thessalonians 5:18 give thanks in all circumstances; for this is God's will for you in Christ Jesus. That's why I always apply to myself that in everything give thanks GOOD or BAD may happen, he has a purpose...
Jeremiah 29:11 For I know the plans I have for you, " declares the LORD, "plans to prosper you and not to harm you, plans to give you hope and a future.
        I love God with all my heart, I owe everything to GOD...GOD is good all the time...I really love to sing christian music, and i know how to play guitar...I'm one of the guitarist in our church..And i used the talent's that GOD gave to me..I love GOD with all my heart and I do not know what will happen if GOD is not with me...
         About my love life I always wait for the perfect will of GOD..I'm not in a hurry to find my partner, Cause i know that GOD will grant my desires, he will gave me a perfect partner who serve GOD with all his heart...Just obey and trust the POWER of the lord...If time will come, I will take care of him....
I always live my life in "PURITY"
1 Corinthians 3:16 Don't you know that you yourselves are God's temple and that God's Spirit dwells in your midst?said in his word.     2 Timothy 2:15 Do your best to present yourself to God as one approved, a worker who does not need to be ashamed and who correctly handles the word of truth.     That's why i treasure my "VIRGINITY" cause i really respect GOD...Marry first before anything else may happen..So that the blessings of the lord will stay forever..I also pray that my partner will understand  my faith...that he will present me to GOD in PURITY... GOD IS GOOD ALL THE TIME.... 
   
Prefers to Meet Age:
27 to 45 (Strict age limits: no)
Education:
Bachelors degree
Weight:
137 lbs (62.1 Kg)
Religion:
Christian / Protestant
Member Since: September 22, 2009
Last logged in: Nov 29, 2023