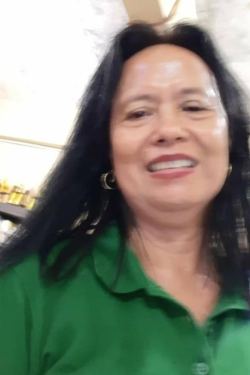 Milagros
64 Years Old, Female
USER ID: 62074
Location: iligan, Lanao del Norte, Philippines
Contact Milagros
USER ID: 62074
Location: iligan, Lanao del Norte, Philippines
A wonderful and blessed 2020!
Thanks.

...If you are a man after God\\\\\\\'s own heart because I truly love the Lord Jesus.

I am a  born-again believer saved by grace through  faith in the Lord Jesus\\\\\\\' death and  resurrection (Eph. 2:8, 9). I do love the Lord and I want to  uphold Him for the rest of my life. 

 I trust the Lord to take me to the man who is  His\\\\\\\' and whose heart is like His\\\\\\\'. He who  loves the Lord most, has a growing personal relationship with the Lord Jesus and who puts God and His will first in his life. I will pray and wait for him who the Lord will send me to love and honor as my very own intimate,  one and  only  life- long partner and best  friend. It is  also my  prayer that he is  educated, decent,  honest,  loving, kind,  thoughtful, romantic,  and  shares me all  about his life, dreams and  fears. Next to the Lord, I will love him so much.

 Also, I am praying for that man who loves me much and takes my  son as his own.  My son graduated in college four years ago. Thanks God, he is already working! It\\\\\\\'s almost 14 years now since the Lord has taken my husband to be with Him in heaven. Also, by God\\\\\\\'s grace, I am teaching for 40 years. Just would like you to know that I do not smoke nor drink.

It has been my prayer that our home would be a place where we could pray, read, memorize the Scriptures together and grow more to be like the Lord as we share Him to others, love, serve Him and each other each day and be vessels unto His honor and glory. Prov. 19:14. 

Thank you.....blessings!

Prefers to Meet Age:
61 to 65 (Strict age limits: no)
Education:
Graduate degree
Ethnicity:
Filipina / Filipino
Have children:
Yes - at home part-time
Preferred Bible Version:
King James
Religion:
Christian / Protestant
Member Since: March 23, 2012
Last logged in: Mar 29, 2023