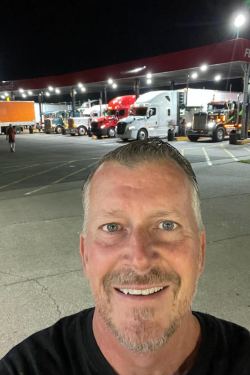 Joseph
55 Years Old, Male
USER ID: 2593309
Location: Grand Junction, Colorado, United States
Contact Joseph
USER ID: 2593309
Location: Grand Junction, Colorado, United States
Hello, my name is Joseph. I am an over-the-road truck driver in the United States.
That means I drive a tractor-trailer truck all over America. I will put a picture of my truck with my pictures. I drive from Florida to California to Texas to New York and everywhere else in between. I am looking for someone who would enjoy that kind of lifestyle with me. It isn't for everybody, but maybe somebody would enjoy it with me. I am on the road driving for 30 days straight and then go home for five days, and do that again and again and again...If I find a wonderful match on this site, I would love to travel to your beautiful country and meet you and your family. And get to know you better. I would also enjoy getting to know and understand your culture better. I am
adventurous, and spontaneous, and want to be adventurous with you. I love swimming in oceans or lakes or streams, hiking, and skiing, mountain biking, or setting the temperature at 65, and watching a movie. Please have grace and patience with me, I am new to this.
Prefers to Meet Age:
24 to 56 (Strict age limits: no)
Education:
Associate degree graduate
Ethnicity:
Caucasian (white)
Have children:
Yes - but not at home
Preferred Bible Version:
New International
Member Since: January 25, 2023
Last logged in: Feb 04, 2023