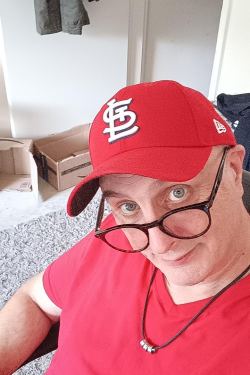 Alan
63 Years Old, Male
USER ID: 2441209
Location: MILTON KEYNES, Buckinghamshire, United Kingdom
Contact Alan
USER ID: 2441209
Location: MILTON KEYNES, Buckinghamshire, United Kingdom
Hello to anyone who read this, I am Alan people close to me call me Al or as one of my nieces calls me Ali which is cool too I am just a normal average guy so what you see is what you get. I am easy to talk and I am a good listener been told I am funny to as in making someone laugh or just to put a smile on your face if you had a bad day. They say a real man dont cry or show his feeling and emotions well that a lie because I do.
I have been married twice and have two sons one is 34 years old the other is 25 years old both from my second marriage and I am proud of them both they are the best thing that happen to me in my life and tell them I love them every time see them. Also I have been single for 14 years. I am very trustworthy and loyal and I am caring and honest. I dont work anymore because I have some health problems I am just being honest and up front from start. What am I looking for in a woman that easy someone who can hold a conversation and can string more that a threw words in a sentence she also needs to be trustworthy and genuine, honest, she needs to be able to listen and talk things through when there is a problem and not run away from it, also I dont have a problem with someone with kids
The music I like listening to is EDM (trance) and I am a gamer (PC and Xbox) is keep my heart and mind young.
Prefers to Meet Age:
38 to 43 (Strict age limits: no)
Education:
School of life
Ethnicity:
Caucasian (white)
Weight:
Over 222 lbs (101 Kg)
Have children:
Yes - but not at home
Member Since: November 2, 2022
Last logged in: May 19, 2023