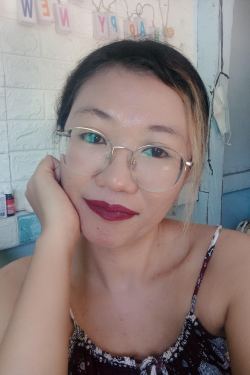 LV
30 Years Old, Female
USER ID: 2311348
Location: General Santos City, South Cotabato, Philippines
Contact LV
USER ID: 2311348
Location: General Santos City, South Cotabato, Philippines




A full blooded Pinay. An introvert and hopeless romantic. Who loves animals in general. I enjoy having deep and spontaneous conversations with someone that really wants to know me in a deeper sense. I can be a very clingy and needy person if really like someone or love him. I want his attention on me everytime.

I like spending time alone with my future partner. I love books, I read different genres depending on my mood of course. I love nature too, but I\\\'m really not a sporty type. If you know me so well, I\\\'m really a deep person. I just really want simple things in life.

I've fought all the wrong battles for all the wrong people who never really cared about me the way I deserved.
I kept fighting when they stopped, leaving me holding the pieces of my broken heart and wondering why I held on so long when they wouldn't.
Because I'm a fighter and I always have been.
It's in my blood, forged by the hard times that tried to take me down more than once..
But I had to learn the hard way who and what is worth fighting for and who will never stand beside me through the storms.
I want that one brave soul willing to hold my hand when things get hard, life gets tough and doesn't leave.
The one that looks me in the eye and tells me they love me and then backs it up.
People have tried to tell me I expect too much, but I know what I'm worth and what I deserve..
And I'm never going to settle, lower my standards or be okay with less.
Call me feisty, stubborn and spirited and I'll just smile and say "thank you."
In my world,
When you fight for what you want, stand up for what you believe and stay true to yourself and your values, that means something.
So that's what I'm going to do because that's who I am.
So, if you're standing before me asking me to let you love me, be sure you know what you're getting into.
I'm a handful some days while I'm a mess on other days..but I'm always real.
I'm always genuine, strong willed and loyal..
And I expect the same in return.
No lukewarm passion, halfway love or weakness lives long in my world.
So, when the winds of challenge threaten to blow us apart- and they will- are you strong enough to stand up and fight?
Or will you give up and walk away?
Because one thing is for sure-
I believe in love and my heart is open, but I'm holding out for the one who will stand and fight for me, for us.
And I'm never going to accept anything less.
Are you strong enough to love me just the way I am?
Because I am and always will be.

I just hope, that the next time I open my heart to someone, I really hope that he\\\'s the one already. But I\\\'m not losing hope. I always believe that God is writing my own story. He never fails, and he won\\\'t start now.




Prefers to Meet Age:
35 to 50 (Strict age limits: no)
Education:
High School Graduate or Some College
Ethnicity:
Filipina / Filipino
Preferred Bible Version:
New International
Religion:
Christian / Protestant
Member Since: August 20, 2022
Last logged in: Jul 30, 2023