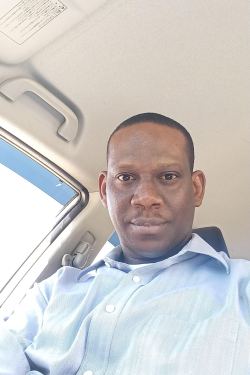 Green
44 Years Old, Male
USER ID: 2219396
Location: Bodden Town, Grand Cayman, Cayman Islands
Contact Green
USER ID: 2219396
Location: Bodden Town, Grand Cayman, Cayman Islands
Life poem: When I saw your yes wink replied, I became happy inside with a smile even as I was working. I thought about you more today. I know I can make you happy with God's help and I am thinking you can do the same.


Generally speaking, I am marritally separated for about 5 years, and my divorce is in process. Hopefully it will be resolved between 1 to 3 months. Just by reading your profile I am very interested in you but obviously we would have to get to know each other first. I have deliberately not upgraded yet because I first want this divorce process to finalize primarily out of respect for my future wife... hopefully you, so she can be assured that I am completely free. I don't want to get intimate with anyone until it's finalize, although there is no problem in knowing people as only friends. But I guess I am taking precautions because I don't want to meet the right person and then she runs away because my divorce is not finalized. I believe and know that God has blessed me and will bless me much more and as such I have much to offer to my future wife... too much to say here... Perhaps when my lawyer tell me it should be finalized in a few weeks then I would upgrade and reach out to you. Send me a wink if this is okay with you.



Dear My God, I come you on behalf of CHANG. I pray that you will continue to straighten her path. You are an invisible God and we know you are working in the invisible relam. Your angles are protecting her now. No weapon formed against her can ever prosper. She is your child and you have placed a hedge of protection all around her and we thank you for your Fatherly promise to protect your daughter. You are Good Father and we salute and honour your name above all. Speak to her in the quietness of her heart and giver her signs and wonders of your presence, but allow her to completely depend on you in all things regardless of the signs and wonders. I pray that she will commit to You her ways and so as promised You will give her the desires of her heart. Bless her family and bless her in her quest for a life-partner. Let your will be done and let you be pleased with the outcome. In Jesus name, amen.


Hey... hi .. I am from the Cayman Islands, a small beautiful first world country in the Carrbbean connected to England. So many Filipinos have come here, I think Filopinos are the 3rd largest nationality here in the Cayman Islands.

I would prefer a wife that we can join together in ministry work as the Lord directs us and as the Lord opens door for us. Or a really nice, sweet and gentle spirit wife; a born again Christian wife for sure ... absolutely.

I believe everything Ephesians chapter 5 says about marriage... and seek to live by it completely with my future wife, which is abundance of love, respect, submission to one another and everything in between.

My first goal for us is to work together to ensure that the Lord God Almighty, Jesus Christ is the centre of our lives and actions.

My second aim, but yet my immidiate action, is to love my wife beyond measure and to seek to fulfill all my wife's desires including being romantic anywhere suitable. Considering the size of my heart with a desire to love my wife as Christ loves the church, I would think she would be very satisfied and happy. Her happiness is my goal.

I would so want us to be close best friends. Genuinely laugh together and look out for each other's interests and needs. I would have to have my wife as my best friend. I would be her protector.

I am very respectful. She would be treated like a queen....yes, my queen .. making her a very happy wife. Providing for her needs and wants as the Lord enables us together. I am already financially stable and progressive.

I am fun and cheerful.... 😀 meaning sometimes i like to play or joke around.

A few of strong trait is very respectful, truthful, honest, too patient sometimes, tolerable, understanding, too generous sometimes, and very gentle... I very rarely get angry, but I am passionate about some things.

I too have weaknesses, and one of them is that sometimes I am not very organize... can you help me...

I am a Christian for many years serving the Lord our God. Volunteering in youth and children ministry for about 25 years.

I am in love with Jesus.
Prefers to Meet Age:
29 to 40 (Strict age limits: no)
Weight:
182 lbs (82.6 Kg)
Member Since: June 24, 2022
Last logged in: Aug 10, 2022