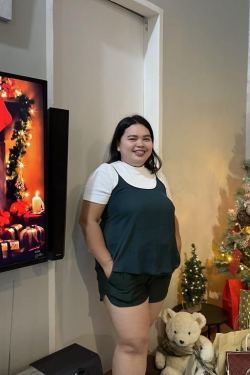 Angelie
30 Years Old, Female
USER ID: 1974831
Location: Cebu City, Province of Cebu, Philippines
Contact Angelie
USER ID: 1974831
Location: Cebu City, Province of Cebu, Philippines
Hello, it's nice to virtually meet you!

I am new to online dating sites.
A fellow teacher invited me to sign up in CF in the hope of me finding a good partner.


I am Angelie, 30 years old from Cebu Philippines. I am an ESL teacher; I am teaching English as a Secondary Language exclusively for Japanese students online.

I love reading books. Some of my favorites are novels written by Sidney Sheldon, Dan Brown, Nicholas Sparks, and more. I also like hiking, sightseeing, and catching up with my closest friends on my rest days.

I am highly dedicated, hardworking, and independent. Coming from a working-class family has taught me to accept the harsh realities of life and find happiness in little things so I would like to invest my time and effort in more meaningful things.

One thing I learned from my mother is that nothing in life is free. I have to work hard to get what I want in life. I started to work early, send myself to college, and even paid my own tuition fees. I used to work as a researcher and now I work as an ESL teacher. I hope this would somehow help you know what kind of a woman I am.

My life in the past 10 years has been spent mostly on my work and family.
Now, I want to settle down and build a home with a good man and hopefully have a child or children. I would prefer a man who has no child or children but wants to have a child with me.

FACTS: I have never had a boyfriend since birth. I grew up in a Christian home and abstinence was expected. If you could teach me how to sort things out and work a relationship out, I would really be grateful, I also want to experience a little bit of romance and romantic feelings with you, and hopefully, it could lead to something more serious. May God bless us.

P.S. my photos are recent. They were taken last month, October, and this month, November. As you can see, I'm a little chubby but I've never been that comfortable with my body, I'm comfortable in my own skin, so if you're into the slender type of woman, I'm not the one for you.

One more thing, I'm too shy to send a message so I would really appreciate it if you will send me a message first and I'll get back to you the soonest possible time. Because of the pandemic, I am now working at home, so I'll be online most of the time. I would prefer to have a friendly chat with you, get to see you, and hear your voice.
Thank you and God bless you.



Prefers to Meet Age:
35 to 55 (Strict age limits: no)
Education:
Bachelors degree
Ethnicity:
Filipina / Filipino
Weight:
178 lbs (80.7 Kg)
Preferred Bible Version:
Revised Standard
Religion:
Christian / Catholic
Member Since: November 12, 2021
Last logged in: Nov 27, 2021