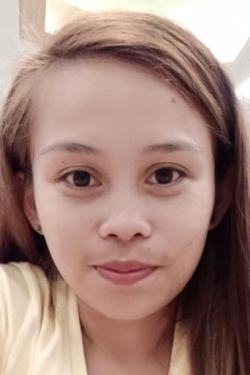 Richly
28 Years Old, Female
USER ID: 1971609
Location: Dumaguete City, Negros oriental, Philippines
Contact Richly
USER ID: 1971609
Location: Dumaguete City, Negros oriental, Philippines
I am Richly, 28 years old, I live in the mountains far from the sea, we only live in the fields where my parents grow, that's all we can eat, but I grew up fearing God, my parents and the older than me. I got used to living in the mountains where there is quiet, fresh air and fun with my parents.. When I started getting married there I experienced life that I have never experienced before when you are oppressed because it is just a shallow view especially my ex-husband's family, I endured until I had two children. but unfortunately it didn't last long, I couldn't bear the pain, the humiliation and humiliation of both people like me is nothing. take care of me from the heart..I also hope you don't play with me, I'm not a toy who's tired of leaving you quickly, I'm a person with a heart.



𝟏𝟎 𝐋𝐞𝐬𝐬𝐨𝐧𝐬 𝐟𝐫𝐨𝐦 𝟑𝟔𝟓 𝐃𝐚𝐲𝐬 𝐖𝐢𝐭𝐡 𝐒𝐞𝐥𝐟-𝐃𝐢𝐬𝐜𝐢𝐩𝐥𝐢𝐧𝐞.



1) Life's easy when you live it the hard way... and hard if you try to live it the easy way.

2) Your choices are made in a moment, but their consequences will transcend a lifetime.

3) Self-discipline comes down to choosing between instant and delayed gratification.

4) Quitting when you're panicked is dangerous and expensive. The best quitters are the ones who decide in advance when they're going to quit. You can always quit later so wait until you're done panicking to decide.

5) No one saves us but ourselves. No one can and no one may. We ourselves must walk the path.

6) In order to succeed, you must have a long-term focus. Most of the challenges in our lives come from a short-term focus.

7) Discipline is choosing between what you want now and what you want most.

8)If you use moderation as an excuse not to push your limits, you're mistaking moderation with mediocrity.

9) Most of us dread the deadening of the body and will do anything to avoid it. About the deadening of the soul, however, we don't care one iota.

10) I think if you do something and it turns out pretty good, then you should go do something else wonderful, not dwell on it for too long. Just figure out what's next.
Prefers to Meet Age:
40 to 65 (Strict age limits: no)
Education:
High School Graduate or Some College
Ethnicity:
Filipina / Filipino
Weight:
111 lbs (50.3 Kg)
Have children:
Yes - at home full-time
Preferred Bible Version:
Filipino or Filipino Dialect
Religion:
Christian / Catholic
Member Since: November 9, 2021
Last logged in: Feb 01, 2023