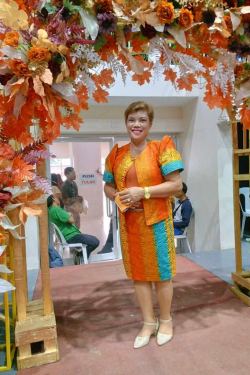 Luchie
58 Years Old, Female
USER ID: 1893060
Location: Puerto Princesa City, Palawan, Philippines
Contact Luchie
USER ID: 1893060
Location: Puerto Princesa City, Palawan, Philippines
Honest, loyal, simple, hardworking, thoughtful, straightforward, a bit of intelligence, humble, futuristic. I enjoy talking about realities in life, the human nature, and a naturalist as proven by my being fond of plants and gardening. I am very much interested in human nature because I'm a frustrated psychologist. I always understand human behavior. My reason for joining here is to find someone to be my companion for life with the similar qualities especially a naturalist for harmonious life bound by legal or civil relationship. I'm here at CF even if I found out later that one needs to upgrade membership to sustain communication with the one interested with you or the one you are interested with. I strongly believe that the Almighty knows what is best for everybody. He is the one who will make the way to let those with honest and rightful intention to meet for lifelong happiness and contentment. My goal in getting into this site is to find my ultimate happiness on earth which I deem is my right and privilege. I'm not a churchgoer but atleast I'm trying not to harm my fellow humans. All I can give is my honesty, loyalty, sincerity ang frankness. I have seen upgraded accounts here but unfortunately I can't communicate any further. I'm sorry if I can't exchange words. I can't afford the subscription. Anyway I do believe that we can find ways to meet virtually if we are really meant to be in good terms. Good luck to the members who have the truthful intention like mine. May we find what we are searching in His time. God bless.



To those who are interested to communicate with me and have upgraded their membership, I can't exchange words with you because I can't upgrade. Anyway thank you for showing willingness. I can see that you sent me a message but I can't read it because it's locked.



Gentlemen, my intention on being here is real. I want to enjoy the rest of life, to maximize human nature in its natural peak. If i wink on somebody for me it's admiration because his profile is respectable.



If we are really meant to become serious in a sensible conversation, there's a way to pave the way for us.



Keeping your profile open might be better because if it's locked I can't reply.



Those who sent me messages through upgraded membership can't be replied because it's locked. I can't upgrade.



I really like to reply you and exchange conversation with you. Sorry.
Prefers to Meet Age:
58 to 70 (Strict age limits: no)
Marital Status:
Separated
Education:
Bachelors degree
Ethnicity:
Filipina / Filipino
Weight:
134 lbs (60.8 Kg)
Have children:
Yes - at home full-time
Preferred Bible Version:
English Standard Version
Religion:
Christian / Catholic
Member Since: August 9, 2021
Last logged in: Feb 03, 2023