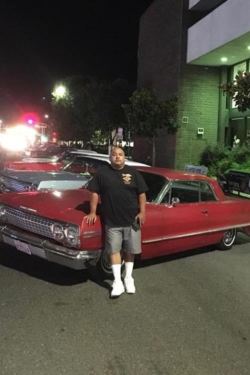 Robert
49 Years Old, Male
USER ID: 1883106
Location: Modesto, California, United States
Contact Robert
USER ID: 1883106
Location: Modesto, California, United States
Hola chicas.👋🏼Looking for a christian lady who likes gorditos. To hold my hand in my walk with Jesus. I'm no saint. Just a bad boy trying to be better and grow in the word. I can have my pick of beautiful women here in California but they are materialistic and liars. I have heard all the scams while hustling in the streets when I was growing up. And it's true, what they say... people will mistake your kindness for weakness. I don't tolerate that stuff. Anyways...I'm not worried about a woman's beauty. I'm looking for whats in her heart. She should love god1st, me 2nd, the children 3rd.
Also ...I'm looking for someone who is happy and satisfied with whatever God provides. Materialistic people are always sad because their greed can never be full filled.
I need a woman between 21 and 30 years old. To have a good chance at barring a healthy baby. Sorry to the lovely older ladies sending me messages. Also I'm not interested in
anyone who looks gay or bisexual.plz stop msg. Me. Society tells us we need the 1 soulmate..wrong. my Bible says she just needs to love God 1st. And the rest is just extra icing on the cake. So that means there's many to chose from. Not just 1 "SOULMATE". So if u would like an independent, loving, honest , affectionate man....who's also stubborn and lazy sometimes , send me a msg. I promise to be loyal and give you my heart. Ps. I'm just building buddy lists ect. But haven't upgraded yet. But if I get a good response then I will pay for upgrade. Ty and may jesus bless you and your family. CIAO BELLA!
Prefers to Meet Age:
23 to 30 (Strict age limits: no)
Education:
High School Graduate or Some College
Ethnicity:
Hispanic / Latino
Body Type:
A few extra pounds
Weight:
Over 222 lbs (101 Kg)
Preferred Bible Version:
King James
Member Since: July 30, 2021
Last logged in: Oct 20, 2021