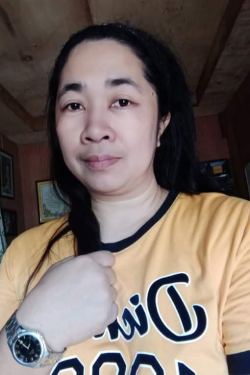 Marietess
45 Years Old, Female
USER ID: 1870584
Location: General santos city, South cotabato, Philippines
Contact Marietess
USER ID: 1870584
Location: General santos city, South cotabato, Philippines
To my future love,
Hi! I know you are out there somewhere. I am so excited to meet you..i hope it will be soon.
I am Marie. I am just a simple girl. No riches or fame to boast about but one thing i am proud of is that i am a child of the most high God. Yes, i am a born again christian through and through. I love the lord. I serve Him as a sunday school teacher in our small church. I like helping people. It makes my heart glad seeing their happy faces.
I am here searching for the man God intended for me. I\'m not much into the physical attribute of a man but of his heart. He should be God-fearing, loves to study the scripture and pray with me, goes to church with me and love me for who i am and not what i am. If that man loves to cuddle and passionate, kind hearted and warm, funny and loves to cook, contented by just being with me doing nothing or watching movies on lazy days then you are him.
In return, i will be devoted and respect you. My whole heart will be yours. I can become your companion and best friend and your lover. In sickness and in health i will be there for you to support you and love you till old age. I am a one man woman so dont be afraid that i will leave you bcoz when i said YES to you, it will be forever.
I will tell you more about myself. I love the beach. Since childhood i live near the sea. Boating, fishing or just watching the sunset over good food is the best date for me. I love to cook and bake so with me you\'ll never goes hungry. I am funny too. I can crack jokes anytime. I love to read and write poems. I am an old soul. I like old songs, old movies, old things and old people. I am honest and understanding. I try to understand everything that is why i dont get angry easily.
I think this will be all. Know that i am not perfect. I have my downside too. I\'ll leave something for us to talk about. God knows i\'ve been praying for you.
Prefers to Meet Age:
45 to 55 (Strict age limits: no)
Education:
Bachelors degree
Weight:
166 lbs (75.3 Kg)
Have children:
Yes - at home full-time
Preferred Bible Version:
English Standard Version
Religion:
Christian / Protestant
Member Since: July 16, 2021
Last logged in: Oct 15, 2021