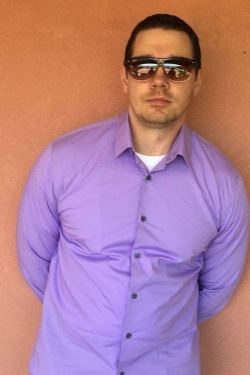 Jeremy
33 Years Old, Male
USER ID: 1864645
Location: Pensacola, Florida, United States
Contact Jeremy
USER ID: 1864645
Location: Pensacola, Florida, United States
There are too many fake accounts being made by this company and it's easy to notice.


Please have a picture when contacting me..
I do not smoke and i do not drink. I have never dated outside of the American culture and I'm a little tired of the American women here. i want to experience a woman that knows what faithful means and will not give out her number every time a guy says hello. . I'm looking for a woman with self respect and a little but of pride in everything she does. Perfect does not exist but showing you care for your man should not have to be argued. I want to find a woman that wants to make a relationship work and is not a ticking time bomb or have double standards.
I have been single for over 2 years and came out of controlling relationship. i know it's odd, but yes. when your heart is involved, things can last longer only to protect it. I have been single for this long because I wanted to wait til i felt I was ready. I have not dated or gone out much. i would like to find someone to do things with and to be with for the long haul. It's about time for me to be happy but not because society says so, but because I know it's time.
I am shy. My name is Jeremy Gaston. I like pretending to be fit and be physical. I enjoy movies, cooking with friends, finding new recipes and restaurants. I love to talk and am sincere and passionate.
I enjoy going to the gym, long walks, eating good food, and some bad food :), making new recipes in the kitchen and experimenting. I like going to the beach, river, and the movies. I like to stay physically fit and being clean. I want to find someone who is patient and is level headed. i want a relationship and see where it hopefully leads to marriage. I want to be open-minded and express myself to the one I'm with in the bedroom and life in general. I am not in a hurry and want to make sure i find the one.
I am a patient person with a passionate soul. I like to hold hands and be affectionate. I have been lied to before and am not into games. i want a sincere relationship that can be strong and takes two people to make it happen 100/100.
If we are so perfect then why are we on this site single? Things happen and most of us have been through anguish and have been burned. Nobody likes to feel like yesterday's newspaper.
** I want a woman that knows what she wants and feels she is ready to be in a real relationship. Blizznuttz @ gmaiil.com She needs to be open with her communication and not give weak signals. If you are so sure about your life then please sound like it when we talk with each other. I want a loving, caring, understanding woman that knows we are real together and we both have needs. I am understanding and my love is deep. I want to wake up in the morning with my love and go to sleep with her knowing we are both happy with each other. I am not demanding and i am not proud. I try to learn more about God and hope he sends me in the right direction to find my soul mate and everlasting life thereafter.
Prefers to Meet Age:
18 to 46 (Strict age limits: no)
Education:
Graduate degree
Ethnicity:
Caucasian (white)
Weight:
221 lbs (100.2 Kg)
Preferred Bible Version:
King James
Member Since: July 8, 2021
Last logged in: Oct 28, 2021