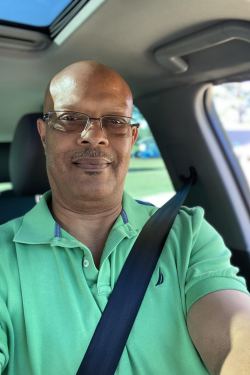 Eric
59 Years Old, Male
USER ID: 1854005
Location: Indian Trail, North Carolina, United States
Contact Eric
USER ID: 1854005
Location: Indian Trail, North Carolina, United States
My special lady will recognize my sincerity with ease. I am looking for the helpmate that our Lord and Savior have always intended for me. Man is not meant to be alone; that does not mean that I cannot live alone and take care of myself. It means that I choose to find what God has in store for me and fully embrace it.

My primary love language is quality time. Nothing says I love you like giving your undivided attention to the one you choose to love.

I am an adventurist, jazz lover, beach bum, enjoy meeting new people, environments, and entertaining.

Love language test results
I want to spend time with you, serve you and touch you to express love for you.
Quality time 30%
Acts of service 27%
Physical touch 23%
Words of affirmation 13%
Receiving gifts 7%

Core Values Index Results
Wisdom to see things the way they are, and decern what to do about it. Love as it relates to CVI means to work towards an inspired vision of what can be by nurturing the core values in myself and others. By living our dream, not just mine or yours but the one we will build together.

62% of my energy comes from Wisdom and Love

Emotional IQ 144
EIQ top 5%
Emotional type FEDW - Self-Reflective, Empathetic, Adaptable, and Welcoming.
Self-Aware score 111
Social Awareness score 111
Self-Management score 102
Social-Management score 102

6 Human needs that all humans have test results.
Contribution 13.5%
Growth 12.5%
Love 10.0%
Significance 8.5%
Uncertainty 7.5%
Certainty 7.0%

NIV; Life Application Study Bible
Jeremiah 33: 3 God assured Jerimiah that he had only to call God, and God would answer. God is ready to answer our prayers, but we must ask for assistance. NIV application notes

I have humbly asked God for his assistance to deliver the helpmate he has made for me. And submit to his will.


Prefers to Meet Age:
30 to 55 (Strict age limits: no)
Education:
High School Graduate or Some College
Ethnicity:
Black / African
Weight:
200 lbs (90.7 Kg)
Have children:
Yes - but not at home
Member Since: June 26, 2021
Last logged in: Sep 23, 2021