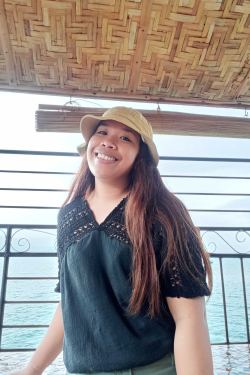 Almira
25 Years Old, Female
USER ID: 1777077
Location: San Carlos City, Negros Occidental Philippines, Philippines
Contact Almira
USER ID: 1777077
Location: San Carlos City, Negros Occidental Philippines, Philippines


When Isaac met Rebecah,
it was ordained by God not man.
She saw a servant heart woman,
that's why I'm still in the process of being a Proverbs 31 woman.

To my future Isaac,

I'm not dreaming of you, but I'm praying for you.
Because I just don't want you to be a man of my dreams, but I want you to become a man of my prayers, not just my choice but my Abba Father's personal choice.

Continue to be a blessing in your family.
Continue to become fruitful in your ministry.
Continue to follow whatever God wants you to do.
Continue to conquer the destiny that God is preparing for you.

I don't want a man whom I can just brag to my friends & relatives because he is gwapo and wealthy.

But my hearts desire is a man whom I can testify to the whole world how he loves Jesus so much and how he loves me like how Jesus loved his bride, the church.

And when we'll reach the season of meeting each other soon,
if God finally shared my hidden heart in Him to yours,
I know it would be the best.
And all we can say to each other is "Thank you Lord! It's really worth the wait".

Do not just desire a fairytale like love story, but desire for a God written lovestory. A story that will glorify the Author - our Great God 💖

May the Lord bless us all ❤️

"She's more precious than rubies nothing
you desire can compare to her."



Prefers to Meet Age:
22 to 50 (Strict age limits: no)
Education:
Bachelors degree
Ethnicity:
Filipina / Filipino
Weight:
134 lbs (60.8 Kg)
Preferred Bible Version:
New International
Member Since: March 20, 2021
Last logged in: Jan 28, 2023