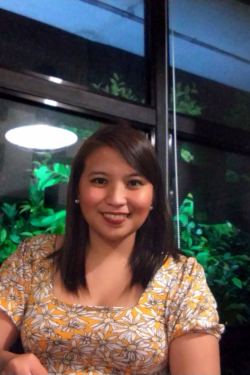 LouellRhyle
28 Years Old, Female
USER ID: 1754478
Location: Butuan, Agusan del Norte, Philippines
Contact LouellRhyle
USER ID: 1754478
Location: Butuan, Agusan del Norte, Philippines
Maayong adlaw!

Cheerful, open to life, affectionate, loyal. I believe in the sanctity of marriage. I am looking for the one to spend my whole life with. I am hoping I can meet him before the end of my medical doctor internship (keeping fingers crossed).

I am patiently waiting for that special someone who will someday tell me I am his answered prayer. Someone who I can look in the eyes and say "where have you been all my life?" (forgive me for being so melodramatic). I have experienced being heartbroken through dating in this site, so forgive me if I may be a bit wary. I have to tell you that I am slow to falling in love, but if I do I love deeply and passionately.

I am looking for an educated, family-minded, someone who is honest, sincere, loyal and affectionate as well. A man who will serve as a good example to our future children. I believe relationships can be harmonious if there is compromise and understanding of each other's points.

I am not loooking for someone who can sustain me. I have worked myself hard and have been in many hardships in life so I can achieve what I may share with my future spouse and children. What I am looking for is someone who will be a partner in life, someone who I can learn from and may teach me more on life, a person who I will be with in times of ebb and flow, who is loyal, consistent, and true. I seek for a man of principle, a man not easily bought or sold, a man after God's own heart.


Prefers to Meet Age:
25 to 60 (Strict age limits: no)
Education:
PhD / Post Doctoral
Ethnicity:
Filipina / Filipino
Weight:
123 lbs (55.8 Kg)
Preferred Bible Version:
King James
Religion:
Christian / Seventh day Adventist
Member Since: February 16, 2021
Last logged in: Oct 17, 2021