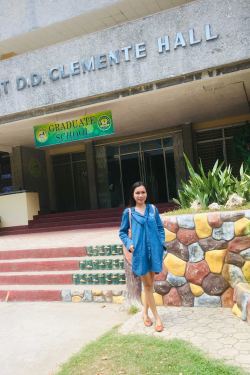 Ruby
28 Years Old, Female
USER ID: 1581236
Location: Gensan city, South Cotabato, Philippines
Contact Ruby
USER ID: 1581236
Location: Gensan city, South Cotabato, Philippines
Lately I've been daydreaming about winning the lottery. a jackpot of a hundred million would do, I guess. I'd buy a piece of land in the countryside, just enough land to have enough space for a little cabin, a little farm, a little love.

I'd probably plant some crops. Take care of poultry and cattle and my general well-being. I could also use a small cactus in a small pot and place it by the cabin window. Open the window every morning for the cactus to bask in some sunshine, water it every once in a while, or maybe even forget about it because succulents can do what most of us can't;

They can take care of themselves.

If I already had all of those, I'd save a million or two in the bank and give a million or two to each of my loved ones. They're not that many, so surely I'd have some more millions left to donate to some charity. I want to be kind.

There's this book I've been meaning to read for a long time now. "House of Leaves" by Mark Danielewski. It's one of those thick books you can seriously hurt anyone with. It's also an unusual book, structured like a collection of manuscripts and other debris you'll find in an old, abandoned house, as such it's about a lot of things, among them a house that for some mysterious reason is a little bigger on the inside and it gets bigger and bigger on the inside, little by little, while on the outside it remains the same.

It's a horror novel, but I'd still buy a copy and read it every day in my little cabin. sometimes I'm less afraid when I'm all alone, reading it, I'd learn, little by little, about the secrets of impossible spaces, and that way I'd never worry about not fitting in my little cabin and anywhere.

I believe in running away. maybe that's all I want. It's easier said than done, though, for there's so much things to consider: things to bring, things to leave behind, things you, even if you want to, can't bring and leave behind. I always find it hard to leave some places and people, but they often do, and so someday I would.

That is, if I won the lottery.

So if someday you didn't hear anything from me, just think that I'd won the lottery. I'd probably be living all alone in a little cabin, taking care of plants and animals in a little farm, finally fitting in a faraway impossible place where everything I'd ever need would be just a little love.
Prefers to Meet Age:
30 to 40 (Strict age limits: no)
Education:
Bachelors degree
Ethnicity:
Filipina / Filipino
Weight:
111 lbs (50.3 Kg)
Member Since: July 27, 2020
Last logged in: May 20, 2022