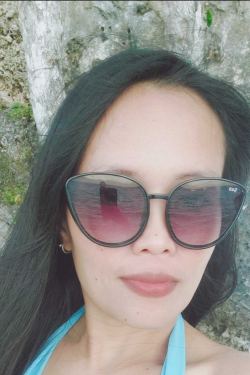 Joana
40 Years Old, Female
USER ID: 153857
Location: Mati city, davao oriental, Philippines
Contact Joana
USER ID: 153857
Location: Mati city, davao oriental, Philippines
Sorry for a long time to be here again, i was being busy with my work and at the same time at the church.But my pleasure if you drop by at my profile and spend a little of your time to read...

I am a happy person with a sense of humor.Patient and well family oriented, God-fearing and loving.After all the pains when my husband passed 4 years ago, i became more strong and now im matured enough to understand what really life is.Now i raised my son alone but thanks God he help me in facing the challenges.I love my son after all that im going through, he is a blessing to me.Now work as a supervisor in a 24 hours convenience store.During free days i spent time with my son and family.We go  motor biking.I am flexible in my responsibilities with my son as a mother and a father to him....Nothing i can wish for but a sincere man with a pure heart and serious in having a relationship.A man who will listen and accept my past, accept me for who i am and for what i am A man that respect God above all and loves family .....For me, time, age and distance is not an obstacle rather its a beautiful reminder of just how strong love can be.For me Good relationship doesnt need promise, terms and conditions.It just needs a HE who can TRUST and a SHE who can be LOYAL.

I just want to add this short message,
I know its hard for me to find a man who will like me because of my situation as a single mother, but im not lossing hope that God will guide me through my way in the right path to meet the right man in a right time, my God\'s will in God\'s time.If you wink me and message me, i will not hesitate to response to you.

*inspite of all troubles- \"1Cor.5:16 Rejoice in the Lord always.\"

*lossing hope?- \"1Cor.5:17 Pray without ceassing.\"

*whatever happens- \"1Cor.5:18 In everything give thanks for this is the will of God in Christ Jesus concerning you.\"

In addition of my inspiration

\"Ecclesiastes 3:1 To everything there is a reason, and a time to every purpose under the heaven.

WHEN GOD IS IN OUR SIDE, HE SETS THE RIGHT PEOPLE IN OUR PATH.WE ARE IN THE PALMS OF GOD\'S HAND AND HE HAS EQUIPPED & EMPOWERED US FOR EVERYTHING.

If we are for each other, we will be...
Prefers to Meet Age:
35 to 75 (Strict age limits: no)
Education:
High School Graduate or Some College
Ethnicity:
Filipina / Filipino
Weight:
Below 78 lbs (35.4 Kg)
Have children:
Yes - at home full-time
Preferred Bible Version:
King James
Member Since: June 16, 2013
Last logged in: Oct 17, 2021