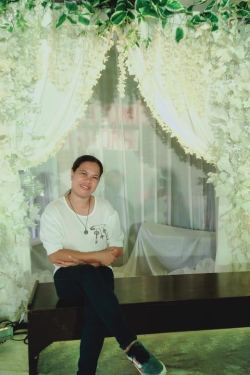 Christine
35 Years Old, Female
USER ID: 147768
Location: Davao del Sur, Philippines
Contact Christine
USER ID: 147768
Location: Davao del Sur, Philippines
Pag- ibig ko sa'yoy totoo ni walang halong biro. Kaya't sanay paniwalaan mo... Ang pag- ibig ko sa'yo. I will sing that song for YOU!🎸🎼🎧

Simplicity is my choose. True filipina! Hello world and hello philippines. I know what time here. But not there, So time is running. Hahaha just good vibe. I am who i am. My name is christine family and close friends call me chris or tine. I love adventures that challenge your patience creativity and ability to how you handle situations and a curious person. Always driven and focus to learn new things and work it hard to succes it. So... I am a very active person thats enjoy spending my free time outdoors. I love going on hikes, camping, biking, walking, fishing or just being in the mountains or be in a road trip. I enjoy playing sports such as badminton and volleyball. when im at home just doing Household chores or do some fixing as i said im a curious person so i love to learn new things that makes my eyes or my attentions interesting in a good way. Then relaxing and watching a good movie or cooking a delicious meal yes thats my new hobbies now learning different style of cook so more videos please hahaha like i said im active person always do what my mind say. so mostly do somw food trips or be in nature. also enjoy reading and listening to music oooh music so much my peaceful moment. I love to sing all do I have terrible voice I still sing it gives a good mood or vibes especially when you cooking and you love what you do I sing with emotion with my heart and soul hahaha I practicing playing guitar now so more practice needed. I try to live to the fulliest in this mandess world. Enjoy every moment you have in this earth always have positive outlook of life. I'm a pretty easy-going person and can get along with almost everyone.
They describe me especially my family and my close friends a fun loving, happy always smiling, humble, thoughtful, understanding, caring, reliable, respectful, kind hearted, loving and sensitive to others feeling. Which is one problem. Because that is one they take advantage to me. But i learn from it. Don't trust and don't believe quickly. Don't try to change me. Accept me the way i am. im happy and comfortable of way of my living, never and never dream to be rich or be on top. Better to stay simple less headache hahaha.... Just simple happiness you make my heart melt or you make me fall inlove when you give me foods or date me in just sea side street foods or outdoor activitys hahahaha see just simple im not materialistic so better be give me foods or date me under nature hahaha
Im not fan of city i more on province lifestyle. Peacefully and calm. i love nature so much and im learning gardening and how to take care animals hahaha... Thanks to my friend. Im always looking for an opportunity to do better and achieve. Im not religious person but my faith is beyond you can imagine.🙏 just be kind respect and spread love. I grow up in a sorrounding that full of values of life. That is why Im kind of conservative ans sensitive. But can keep of what's new in a good way I know what to do or to walk away if I know my well being has abuse or no respect at all. I can fight if i know they hurting me. i can calm if there is peace talk i can listen when it needed as i said i am easy going that can get along with others. if You cant accept me then i respect that, not everyone can be please so leave it or stay. 😊 So good luck to us and enjoy every moment. Its okey not to be okey sometimes thats part of life. not always were up to beat or in melody song hahaha😅. I don't know what im talking about. just always try to be positive on this ups and down of life. So believe me or not its up to you? Sue me or know me? Nothing to lose or you lose the pure one?


My ideal? i like a man who can jive my personality, a man who like outdoor activities, food trip, a man who can respect me, understand me accept me for who i am. A man that teach me to be a better to encourage me and i garantee to you i will take care love you and be there for you from ups to down.
I don't need a man who feed me give the universe gold diamond or what treasure you have there do i look like need that or do i look like need help. NOT ME. Whatever you have someday it all either gone or you cannot bring that in your coffin. Im here for serious commitment or serious relationship. im not and not and not here for any kind of games or fun. So please have some respect. And don't judge quickly cause you don't know me well you just know me by stare at my pictures. I don't have beauty outside but. Million percent i have a beauty inside pure and clean and that is my best asset. Im a sweet person always show my love to my only one. i love hugging and kissing and biting especially in the neck hahahaha I'm very loyal person so I hope he will not cheat on me.
So its up to you if you believe me or not all i can say you lose the pure soul. Anyway i don't know what to say more will i tell if there is interesting to know me??? There is. But ignore and ghosted cause they looking for a MODEL SMART lady. Will goodluck to all.
Prefers to Meet Age:
35 to 60 (Strict age limits: no)
Education:
High School Graduate or Some College
Ethnicity:
Filipina / Filipino
Weight:
110 lbs (49.9 Kg)
Preferred Bible Version:
Filipino or Filipino Dialect
Religion:
Christian / Catholic
Member Since: May 21, 2013
Last logged in: Oct 03, 2022