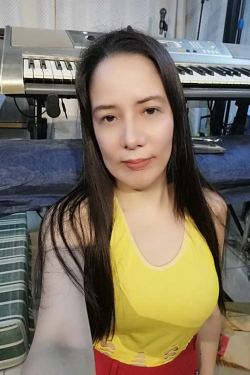 Joenah
41 Years Old, Female
USER ID: 1451014
Location: Cavite City, Southern Luzon, Philippines
Contact Joenah
USER ID: 1451014
Location: Cavite City, Southern Luzon, Philippines
*I'm on team JESUS.
I am a Christian.
Saved by grace.
Seeking after GOD...
(More about me:)
I'm a simple person. Came from a Christian family. My Dad is a Pastor. And he mold us in CHRIST word and teachings. At my young age been part of church ministries. All the talents and capabilites offers to GOD. Since childhood up to now living to serve GOD.
My favorite verse is Romans 12 *CHRISTIAN LIVING*
1 "I beseech you therefore, brethren, by the mercies of GOD that ye present your bodies a living sacrifice, holy, acceptable unto GOD, which is your reasonable service.
2 And be not conformed to this world, but be ye transformed by the renewing of your mind, that ye may prove what is that good, and acceptable, and perfect, will of GOD.
9 Let love be without dissimulation. Abhor that which is evil; cleave to that which is good.
17 Recompense to no man evil for evil;
Provide things honest in the sight of all men.
21 *BE NOT OVERCOME OF EVIL BUT OVERCOME EVIL WITH GOOD . *
And also Genesis 4:7
"If thou doest well, shalt thou not be accepted? And if thou doest not well sin lieth at the door. And unto thee shall be his desire, and thoushalt rule over him."

I am nothing without GOD. I love Him and want to serve Him with all of my life.

...Hoping to find the right man GOD prepares for me..
Prefers to Meet Age:
27 to 45 (Strict age limits: no)
Education:
Graduate degree
Ethnicity:
Filipina / Filipino
Weight:
100 lbs (45.4 Kg)
Preferred Bible Version:
King James
Member Since: February 11, 2020
Last logged in: Oct 02, 2023