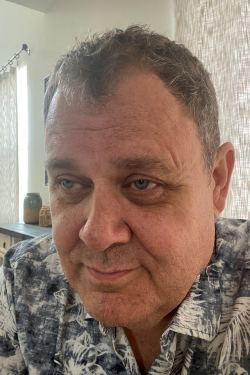 Steve
62 Years Old, Male
USER ID: 1395517
Location: Pismo Beach, California, United States
Contact Steve
USER ID: 1395517
Location: Pismo Beach, California, United States
I love my family first, very responsible. I am a hard working, honest person. I am happy, I love to learn. I am very kind to people. I have never smoked, i'm never drunk, i don't gamble. i have NEVER been violent , will not. I prefer time with you, not my other friends. I am attracted to a lady who is very kind, smart, humorous.

I grew up on a farm in a mountain valley and learned hard work, responsibility and respect

I was raised in a Christian family and know the Bible very well reading it all of my life. But, I don't belong to a church.

My son and daughter are grown and I have 5 grandkids age 7 to 15, 3 boys, 2 girls. They all live about 20 minutes away in a nearby town. I live alone with my dog Millie.

I was married once 30 years and my exwife left me, then remarried. She left when there was a slow economic time.
I own my business 35 years, 35 staff and we do engineering and manufacturing for construction projects.

I have traveled a lot, China, Israel, Egypt, Mexico, Canada, Italy, Greece, Alaska, Hawaii, but not Philippines yet.

I live near the ocean in California, USA. It never snows here and is not hot. just a mild climate. I like hiking, swimming, bicycle, maybe tennis, maybe golf.

I often read history or science books, and like movies too.

I love my grandkids very much, and am willing to have more kids if my future wife wished for this.

I want my wife to be spoiled by me and happy. I worry if I get old and not fair to her. I feel young, but I am 61 years old.



Prefers to Meet Age:
29 to 49 (Strict age limits: no)
Education:
High School Graduate or Some College
Ethnicity:
Caucasian (white)
Body Type:
A few extra pounds
Weight:
220 lbs (99.7 Kg)
Have children:
Yes - but not at home
Religion:
Spiritual but not religious / Other
Member Since: November 12, 2019
Last logged in: Sep 27, 2022