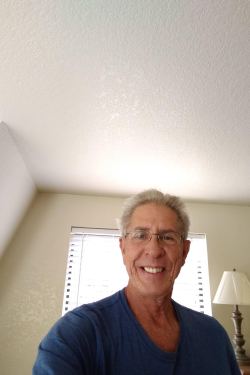 Michael
70 Years Old, Male
USER ID: 1324579
Location: Loomis, California, United States
Contact Michael
USER ID: 1324579
Location: Loomis, California, United States
It has been almost 7 1/2 years since my fiancée passed away. During that time I have been alone. I have done very little dating during this time, with nothing becoming a romance. Recently, say over the past several months, I have noticed a positive shift in my emotional, mental and motivational state(s). I have noticed I miss the companionship of a good woman. For me, a good woman is a woman I can communicate with, share a lot of quality time with, travel about the United States with. (I very much enjoy the sea and the mountains and, much of the time, I will camp).

I am a very affable man, most people find out (eventually if they get to know me) that I have an excellent sense of humor.

I have a strong belief, a strong faith in the guiding hand of our Ever Living Creator; He always works to our benefit, regardless if it feels that way at the time.

I am very health conscious, I exercise regularly, 5-6 days a week. I go to the gym and I would love having my special woman sharing and enjoying the same activity with me. I eat a healthy diet, generally organic, and I am very much into healthy supplements and herbs.

I have been a builder since I was about 22 years old; I still do a lot of building, however, the last new house I built was about 3 1/2 years ago. It was a large custom home for my friend and his wife. Since then I primarily do remodel and repair work on houses and commercial buildings. "Why, " you may ask yourself, "am I still working?" - Because I still enjoy it. In addition to construction I do some consulting on the side which can, and does, delve into crypto currency/crypto tokens, real estate, trusts & LLCs. One of my companies is an independent associate of Legal Shield....I have a lot of interests, and plainly, I am still an ambitious man,

I want someone to share my life with, to hold hands with, to embrace, and to love. You should know that you may be subject to, and, without warning, spontaneous displays of affection...even in public.

Oh, in the interest of 'FUll Disclosure":
I haven't watched public TV for about 27 years. Haha, it is amazing what you can learn if you are not being daily hypnotized by Television. I do own and rent DVD movies and enjoy going to the movie theater. I do not miss watching public TV nor do I wish to go back to it. So, heads-up, if such is unacceptable then best of luck to you in your quest.

I refuse to be injected with those toxins contained in those jabs, known here in America as, "Emergency Use Authorization" Injections, also incorrectly knowns as "Vaccinations". I refused to wear a mask, as if a paper mask can prevent the most deadly virus to ever exist. Heck, those masks cannot keep dust from the construction site out; how stupid do they think I am to believe those masks can keep a virus out? I also am of the opinion that the 'Jab(s)' are injecting the 'Mark of the Beast', or, at least is precursor/prerequisite to the 'Mark'.

Believe me, I know my position on the Jab does not sit well with the sheeple. It likely may not sit well with you whom is reading my profile. That's OK. To paraphrase Robert Frost, "I have always been one whom has taken the road less travelled and, that has made all the difference."

Thank you for taking your time to read my profile. May the Ever Living Creator bless you.
Prefers to Meet Age:
30 to 57 (Strict age limits: no)
Education:
School of life
Ethnicity:
Caucasian (white)
Weight:
171 lbs (77.6 Kg)
Have children:
Yes - but not at home
Religion:
Christian / Other
Member Since: August 5, 2019