How does a business get press mentions? One way is to employ a press specialist. In our dating industry, here is one story of how this has played out thus far for AnastasiaDate, working with Mark Brooks. Brooks is a publicity consultant working primarily with dating sites through his Malta-based company Courtland Brooks and via the iDate conferences he helps organize worldwide. We do not know when Brooks began working with Anastasia, although at the latest it was January of 2013.
Dan Slater's much-awaited Love in the Time of Algorithms, came out this January 2013 as well. Since we had heard that the book would include a chapter on international romance, we pre-ordered a copy and read the book.
What we found was that many times in the book, there were direct references to Mark Brooks and companies he represents. The entire chapter of Slater's International Romance chapter was dedicated to Anastasia International, one of our competitors, which at the same time as the book's publication, appeared on Brooks's LinkedIn (he listed himself as Chief Strategy Officer for Anastasia).
Slater certainly cannot be counted as a simple tool of Brooks. He did write in one corner of his chapter that "the staffs of local bridal agencies will often pose as the women in the profiles, responding to incoming messages in order to keep the rubles rolling in." And yet, on the other hand he had opened up his chapter with the contrasting statement that "AnastasiaDate specializes in connecting Western men with women in Russia, Ukraine, China, Africa, Latin Ameria, and beyond."
We contacted Slater personally via email asking him why he had focused his international romance chapter on one service that he appeared to have serious questions about, and why he had not pursued some of the more questionable aspects more deeply. He indicated that he was just focusing on what he felt would be interesting, the relationships that did emerge there.  But that begs the questions – how many successful relationships do emerge from that service, and why had he not broadened his view to the many other services, such as ours, that in fact might have facilitatated even more successful relationships without the controversial aspects?
Was it possible that this had just been a coincidence; could Brooks had in fact only gone to work with Anastasia after reading Slater's book; was Brooks ever building up the image of his own client, but might Slater not have understood this?
As we have learned more over the past year about the types of frauds going on at dating sites worldwide, we made material available via our YouTube and Advice articles – such as for instance the videos we were provided of dating sites that we proved were deliberately faking messages (one, two, and three).  We have sent these to Slater and hope that he considers these in his next draft, and that he might reconsider the sentence when he had written "I found no evidence of dating sites turning a blind eye to scammers?" (a sentence that appears to apply to all dating sites, though perhaps this is taken out of context).
Take a careful look at the evidence behind Mark Brooks's association with Anastasia and Slater to understand how the press is cultivated by press specialists:
In January 2013, Mark Brooks added "Chief Strategy Officer" of Anastasia to his LinkedIn profile, almost exactly matching the date of the publication of Slater's book.
However, working backwards, Brooks himself records in his blog entry here that from November 27, 2012 to December 8th, 2012 he had spent in Moscow "studying" AnastasiaDate.

Then, skipping back to February 14, 2012, Brooks's blog that day states, "The specific inspiration for the morphing of our approach was my experience with Sharon Jayson for today's front page USA Today article, and with Dan Slater (formerly of WSJ), on his upcoming book on the internet dating business.  They ask great questions, and I just thoroughly enjoy these top flight reporters.  It was fun to help guide their story development."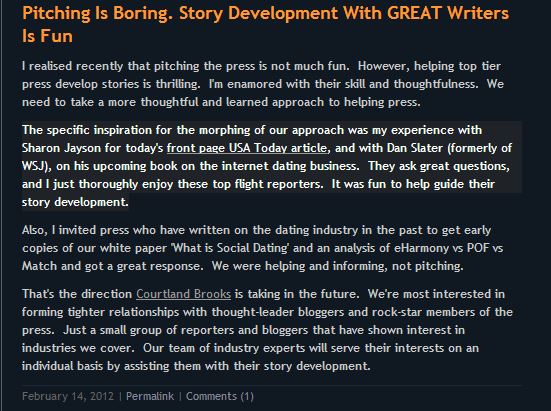 Three months earlier, this is Slater recording comments about the beauty of Colombian women, apparently for a Anastasia/Amolatina promotional video. This took place in November 2011 at the actual AmoLatina "tour" (at which the women are there to participate in a Beauty Contest, while the men are hoping to meet a fiance, paying the company for these so-called socials- http://www.youtube.com/watch?v=3SFWy-AXDT0):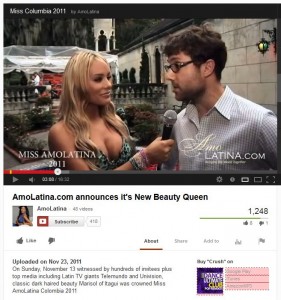 Here's Slater at the 2011 iDate in Moscow several months earlier, where he apparently met the Anastasia executives (documented in his book), where co-organizer Lesnick refers to Slater as "your reporter" when speaking to Brooks (http://www.youtube.com/watch?v=y_YGx_I-5WE):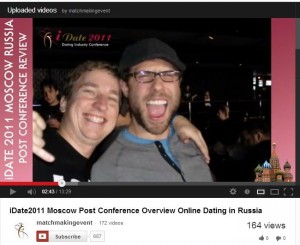 Heading further back in time if you review http://www.onlinepersonalswatch.com/news/2006/09/opw_interview_a.html, you will see that Brooks's interview with Anastasia's employee Alexei Negin, includes an Affiliate Link to Anastasia's website.   Brooks thus had already had a link placed which would have enabled someone to have been earning money from Anastasia as an affiliate for years. But to be clear, we do not know with certainty whether Brooks was ever working for Anastasia or receiving any type of money or other compensation from them ever. All we know for certain is that this year Brooks announced a relationship and has been active both in pitching media and in providing quotes for press releases.
Would it have been worth it for Anastasia to get this mixed (but nearly exclusive) publicity in Slater's book, if Brooks was actually working for Anastasia?
Anastasia International, via a (or another?) Brooks media push, has more recently come out in Fortune magazine as having over $100 million (in revenue, presumably). Yet again, the Fortune reporter also tagged AnastasiaDate's chatcam women as being paid to correspond.
What will be the end result of all this publicity? Could Anastasia maintain or increase its revenues if the agencies supposedly receiving commissions stopped passing on commissions to their models, assuming these reporters are correct about Anastasia's business model? Will the shadow side of Anastasia's operation – touched on by both Slater in his book and VanderMey in the Fortune piece – become the focus of more media attention, and further tarnish, rather than improve Anastasia's reputation? Will Brooks and the Anastasia team be successful in eliminating or whitewashing the aspects of their business that they say they deplore and prohibit, such as payments to those in Ukraine, China, Colombia, Russia, etc, for answering letters and engaging in chat sessions while they pretend to draw men into relationships that often are only imaginary?
So far, it appears to be tough work. Reporters have interest in the stories, yet they are unwilling to do the bidding of friendly executives, and are doing their own homework too.
Share this post with your friends
By Christian Filipina - Click to Visit And Add Us Into Your Circles