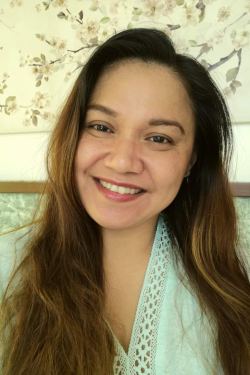 Nice
33 Years Old, Female
USER ID: 2217397
Location: Davao City, Province of Davao del Sur, Philippines
Contact Nice
USER ID: 2217397
Location: Davao City, Province of Davao del Sur, Philippines
About me:
- saved by grace
- Christian woman from Davao City, Philippines
- never been married and no children
- living a simple lifestyle
- raised in the countryside with traditional values
- an English language teacher to Asian students
- tend to be shy when with new people but becomes bubbly and funny when with people I'm comfortable with
- prefers to be with small groups of people
- a friend who listens
- is not so comfortable in crowdy places
- doesn't smoke and drinks occasionally
- not a party girl (if you like bars so much, we're not a match)
- enjoys cooking, gardening, raising chickens, reading, going to the beach, loves nature

When in a relationship, I am...
- caring, affectionate, supportive, submissive
- seriously thinking of marriage ( a lifetime commitment)
- looking forward to making a family with a couple of children
- into deep conversations
- into fun discussions and jokes, too
- straightforward and open, I say what I feel and think even if it would probably make my person upset. Yet, I'm very careful of keeping respect in the relationship.

I'm looking for a partner who is...
- a Godly man, a Bible-believing Christian
- keeping an intimate relationship with Jesus Christ and puts Him first in everything
- dating with marriage in mind
- mature, stable, and ready to build/raise a family
- takes responsibility for his action
- a person that values integrity and honesty in a relationship
- family oriented
- goal driven and makes effort to realize his goals
- someone I can support, dedicate my love to
- a friend and a partner

Please note that I am a woman in my 30's, at this age, I no longer get impressed with material things as I can afford them. Not into games, help me save time please.

I am not upgraded so I can't read your message.

Thank you for reading.
Prefers to Meet Age:
35 to 45 (Strict age limits: no)
Education:
Bachelors degree
Ethnicity:
Filipina / Filipino
Weight:
133 lbs (60.3 Kg)
Preferred Bible Version:
New King James
Religion:
Spiritual but not religious / Other
Member Since: June 22, 2022
Last logged in: Jun 24, 2022