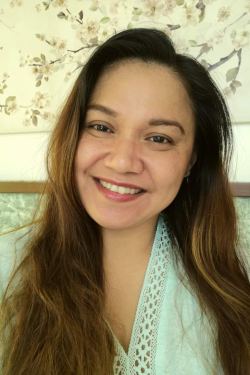 NiceNice
33 Years Old, Female
USER ID: 2217397
Location: Davao City, Province of Davao del Sur, Philippines
Contact NiceNice
USER ID: 2217397
Location: Davao City, Province of Davao del Sur, Philippines
Hello everyone, thank you for viewing my profile.

**Experience has taught me not to rush on things, and it is also the same when it comes to relationship. I hope to be patient in knowing each other to see whether we share the same values. ***

A little about me:
Never been married and no children. I consider myself caring, gentle, funny around people I'm comfortable with, sweet, and affectionate.

As for interests I'd love doing with a partner; listening to music (and I sing a bit😊), cooking (especially for my family❤️), planting vegetables (I haven't been so successful at this😆), and going to the beach (love the sunset view😍). I'm not very outdoorsy but I love to explore places and do new activities every now and then.

I still keep most of the traditional values I grew up with especially when it comes family. I was raised in a rural area with conservative values but I stayed half of my life in cities because of work.

My job involves assisting Asian learners (kids and adults) in developing their skills related to the practical use of the English language as well as preparing for their English tests. I, too, am still learning about the language; I just love learning and sharing what I've learned.

These days, I try reading more books (I'm not a bookworm) and I'm working on building and strengthening my relationship with the Lord Jesus.

I am still working out on myself to understand the differences between men and women so respect and open communication are vital. Also, it is such a turn on to have fun conversations (maybe goof around without shame 🤣) as well as have intelligent talks/deep discussions about life.

What I'm looking for in a "partner":
I'd love to meet a Christian man who loves and lives for Jesus Christ more than anyone or anything else. A strong man committed to lead and be the head of the family. He isn't perfect but is eager to nurture his relationship with Jesus Christ, make personal progress, learn new things, knows how to take responsibilities, and desires to make a family - - - an actual partner.

I want to have a couple of children, and it would be great to have a partner who shares the responsibilities of parenthood.

For me, the purpose of dating is marriage.

Drop a message and let's see whether we click.
Prefers to Meet Age:
36 to 45 (Strict age limits: no)
Education:
Bachelors degree
Ethnicity:
Filipina / Filipino
Weight:
133 lbs (60.3 Kg)
Preferred Bible Version:
New King James
Religion:
Spiritual but not religious / Other
Member Since: June 22, 2022
Last logged in: Sep 26, 2022